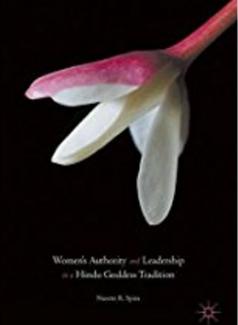 Women's Authority and Leadership in a Hindu Goddess Tradition by Nanette R. Spina
Monograph
Spina, Nanette R. Women's Authority and Leadership in a Hindu Goddess Tradition. New York: Palgrave Macmillan, 2017.
This book investigates women's ritual authority and the common boundaries between religion and notions of gender, ethnicity, and identity. Nanette R. Spina situates her study within the transnational Melmaruvathur Adhiparasakthi movement established by the Tamil Indian guru, Bangaru Adigalar. One of the most prominent, defining elements of this tradition is that women are privileged with positions of leadership and ritual authority. This represents an extraordinary shift from orthodox tradition in which religious authority has been the exclusive domain of male Brahmin priests. Presenting historical and contemporary perspectives on the transnational Adhiparasakthi organization, Spina analyzes women's roles and means of expression within the tradition. The book takes a close look at the Adhiparasakthi society in Toronto, Canada (a Hindu community in both its transnational and diasporic dimensions), and how this Canadian temple has both shaped and demonstrated their own diasporic Hindu identity. The Toronto Adhiparasakthi society illustrates how Goddess theology, women's ritual authority, and "inclusivity" ethics have dynamically shaped the identity of this prominent movement overseas.
Based on years of ethnographic fieldwork, the volume draws the reader into the rich textures of culture, community, and ritual life with the Goddess.
Nanette R. Spina, Associate Professor and Graduate Coordinator in Religion at the University of Georgia. Her research area includes Hindu traditions in India, Sri Lanka, and North America. She utilizes historical and ethnographic research methods, and has conducted field studies among religious communities in South Asia and North America, including an extensive field study in Toronto, Canada. Her research interests include Hindu Studies, Goddess Traditions, Transnational Religion and Diasporas, Ritual, Women's Ritual Agency, and issues at the intersection of Religion & Migration, and Religion & Gender.  Dr. Spina is currently program co-chair of the Religion and Migration Unit at the American Academy of Religion.